EDDIE DURHAM & HIS BASE FOUR (a/k/a The Kansas City 4 & 5; Lester Young Kansas City Sessions)
click the CD for complete info/video.
These recordings, among the first to capture electric guitar on record, were originally produced by John Hammond, Sr. to showcase Durham's electric guitar. He utilized a Gibson ES-150. Lester is not on the original 4 tracks, he is added on the 2nd/3rd recording dates. Durham is not on the 3rd (last) date.
March 16, 1938: John Hammond, Sr. produces the first 4 tracks: "Laughing At Life", "Good Mornin' Blues", "I Know That You Know" & "Love Me or Leave Me" - with

The All American Rhythm Section: Buck Clayton-tpt, Walter "Big Un" Page-bass, Papa Jo Jones-drums, Freddie Greene-r/guitar. Hammond sold these tracks to Milt Gabler, but "Love Me Or Leave Me" was lost, until the 1970's, then reissued.
GUITAR PLAYER Magazine, August 1979:
Eddie Durham's very first guitar recordings are October 1929 with The Bennie Moten Kansas City Orchestra. However, most of the personnel in Bennie Moten's Orchestra, including Eddie, emerged from
WALTER PAGE's Oklahoma Blue Devils Orchestra:
Durham's 2nd recordings (KC) November 1929, four tracks with singer Laura Henton. (Gospel Classics, Document Records DOCD-5190)
EDDIE DURHAM (1906-1987) one of the first to:
- to RECORD, single-line solos
Bennie Moten's Kansas City Orchestra October 1929 on "BAND BOX SHUFFLE", "NEW VINE STREET BLUES" (Basie on piano) and 1930 "BOOT IT". This only refers to "single line solos" on ANY guitar

- SHOWCASE a home-made guitar AMPLIFICATION system
metal-bodied, with a homemade pie tin resonator inside and megaphones to increase its projection, a hangar (now called a whammy bar), as well as his own homemade Amplifier. This only refers to an amplification system which was CREATED (not patented) by DURHAM, who performed with it - AND it being widely showcased by "himself"...
AMPLIFIED GUITAR earliest recordings:
- hear HITTIN THE BOTTLE (Jimmie Lunceford Orchestra)
September 30, 1935 Lunceford recordings capture Durham on "HITTIN THE BOTTLE" (metal-bodied Dobro "resphonic")
Hear also "Avalon". This is the first recording of it's kind (metal-bodied Dobro "resphonic").
Lunceford also recorded Durham on "HONEY KEEP YOUR MIND ON ME" for which Durham won an "All American Poll" for his innovative guitar soloing.

May 29, 1935 - BIRD OF PARADISE (Ellington) Durham's Guitar & Arrangement
Durham records electric guitar with Count Basie's Orchestra on the August 1937 sessions.
EDDIE DURHAM'S INSTRUMENTS ARE PRESERVED
Please contact at "SwingtheBlues@yahoo.com" for exhibits of actual instruments or to license photos
SIGNATURE Hollow-Body GUITAR, left & right handed with Eddie's signature on the frets, son Eric and daughter Marsha's signature inside the F-Hole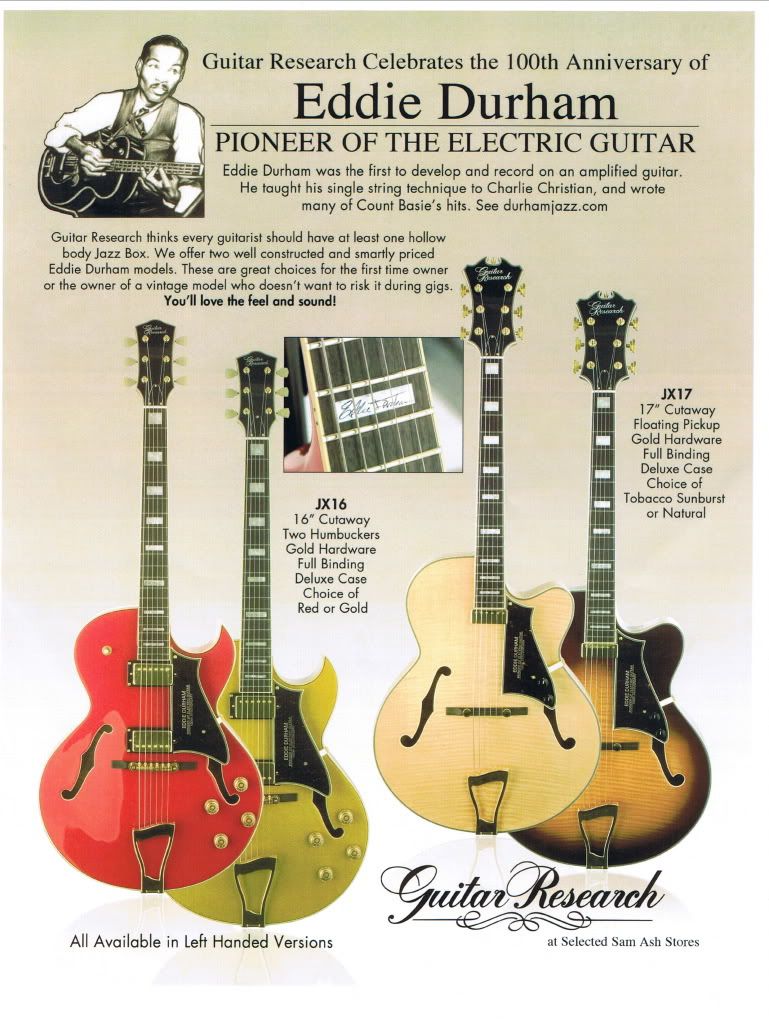 In 2006 "Sam Ash Music Stores" released the DURHAM SIGNATURE GUITARS, two colors each, by "Guitar Research"
OTHER GUITARISTS and "RECORDING" firsts
I'm pretty sure these websites won't even mention Eddie Durham, but DurhamJazz.com gives credit where it's due:
Compare EDDIE DURHAM's (b 1906 - d 1987) RECORDING dates:
GEORGE BARNES (July 17, 1921 ? September 5, 1977)
MILTON BROWN (Sept. 7, 1903 - April 18, 1936) inspired Django Reinhardt
ALONZO "LONNIE" JOHNSON (Feb. 8, 1899 - June 16, 1970)
EDDIE LANG (Oct. 25, 1902 - March 26, 1933) aka "Blind Willie Dunn". Youtube With LONNIE JOHNSON 1929
LESter POISFUSS (PAUL) (June 9, 1915 ? August 12, 2009)
DJANGO REINHARDT (January 23, 1910 Belgium - May 16, 1953) recorded Durham's TOPSY
CHARLIE CHRISTIAN (July 29, 1916 - March 2, 1942) Youtube compare TOPSY by Christian
REGARDING GUITAR "INVENTION"